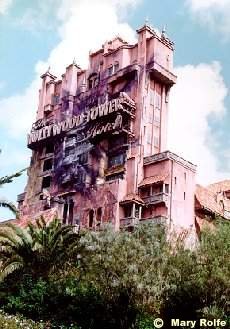 The Hollywood Tower Hotel
The Hollywood Tower Hotel, better known as The Twilight Zone Tower of Terror, is one place to go if you want to drop in for a thrill. And drop you will, three times, I think, now. &nbsp Though I've been told it varies from time to time, I lose count after the doors open into infinity and I can't hear my heartbeat anymore for all the screaming. Just take a right and shuffle up Sunset Boulevard, it's the tallest building in Disney World at 199 feet.

Click on the photo at right for a peek at what you might see when the doors open. A courageous friend took this photo since my eyes seem to close every time it happens.

The lobby in this hotel is very well done, an elegant place that's been neglected since
1939 when they say a terrible thunderstorm and a bolt of lightning destroyed part of
a guest wing and caused an elevator car to vanish! Could that possibly happen to you
- in your elevator?

The Cast Members are perfect and the editing they did with Rod Serling films is amazing.
---
Back to More MGM Magic Kingdom | Epcot | Animal Kingdom
World Showcase | Future World
Send Disney Photo Postcards

Pansophist.com | Pansophilosophy
Tower Case of Terror | Art Gallery | The Squash that took over the Lilac
Topaz Replica of Titanic's Le Coeur de la Mer | My Jaguar

All images on this site are © by Mary Rolfe/Pansophist at http://www.pansophist.com/