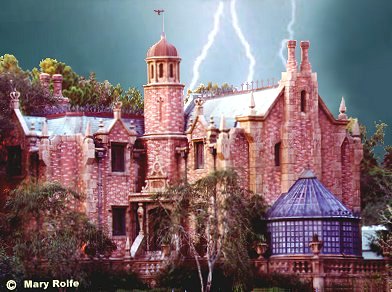 Is the Sky Always Different Here?
Many visitors to the Haunted Mansion notice the graveyard but miss the bat flying from a pole on the high tower. Also, this is the only place in all of Walt Disney World where'll you will see poor gardening. Disney's horticulturists deliberately make the place look unkept and overgrown. Another bit of trivia is the dust inside. It needs frequent re-applications and they've used so much of it over the years, it would easily bury the mansion.

Years ago the Haunted Mansion was more scary than it is today. There were some guests who were too frightened so Disney toned it down. There are neat holograms and special effects, and the black clad cast members are so good they send a chill up your spine. Though I liked it better when it was scarier, it is still on the top of my list of attractions. Any ride that can put a ghost sitting beside me is A-1 in my book. So make sure you visit this school for ghouls.

---
Back to Liberty Square
Epcot | World Showcase | Future World | MGM
Pansophist.com | Pansophilosophy
Tower Case of Terror | Art Gallery | The Squash that took over the Lilac
Topaz Replica of Titanic's Le Coeur de la Mer | My Jaguar
All images on this site are © by Mary Rolfe/Pansophist at http://www.pansophist.com/