BREAKING NEWS- Dateline November, 1997
RENOWNED INVENT0R AND PATENTER DISCOVERS DISNEY WORLD
---
Brief Comment by Pansoph
Massachusetts Institute of Pansophilosophy - Jon Rolfe , renowned inventor and patenter , accompanied his spouse, Pansoph , to Walt Disney World for the last ten days of October this year as a series of remarkable events unfolded.
After receiving a large recharge from Figment, Rolfe's
holiday turned miraculously into one discovery after another as inspirations shot rapid fire into the creative kernel of Rolfe's cranium.
Witnesses believe in Magic. On the afternoon of Rolfe's arrival, Rolfe, as he is wont to do, went directly to Journey into Imagination . Immediately afterwards, something totally unexpected occurred as Figment, determined to pick the inventor's brain, accompanied Rolfe back to his room at the Beach Club. Tourists were astonished as the threesome, Rolfe, Pansoph, and Figment, strolled through World Showcase on their way to the resort.
A late dinner in order, Figment chose to remain in the room which had an excellent view of Epcot's 25th Anniversary Illuminations show, while Rolfe and Pansoph, stoked up on a marvelous buffet at the Cape May Restaurant located right inside the Beach Club. Noted by the reporter, the duo consumed a large number of mussels this first evening.
October 22. While Figment remained at the Beach Club reading through some of Rolfe's works, Rolfe and Pansoph joined a group for the Hidden Treasures Tour of World Showcase where they were rewarded with two dynamic and knowledgable tour guides, Monty Ray and Kristi. Pansoph had taken this tour before and suggests this is a good idea as different tour guides possess different talents and, as a result different tours, all rewarding. Lunch, half way through the tour was a wonderful repast in Morocco at the Marrakesh . It was part way through this tour that Pansoph realized this was the 18th anniversary of Walt Disney World's 100 millionth guest - That's right, Magic Kingdom was open only eight years when the 100 millionth visitor entered the still new theme park. Later that evening, after a reminiscent walk of the Magic Kingdom , dinner was enjoyed in honor of Lady and the Tramp at Tony's Restaurant in Magic Kingdom's Town Square.
October 23. It was becoming evident, with all the walking and discovery going on that food was going to be an important part of this holiday. The touring duo made their way to Downtown Disney fully aware that if they were going to eat at the Rainforest Cafe, it ought to be early in the vacation, before too much noise became an irritating factor. There was also the rumor of a giant Lego dragon having invaded the lake there. Dragon invasion confirmed, investigation continued to Pleasure Island to inspect current building procedures and the reported expansion of Downtown Disney into Pleasure Island. Major growth confirmed. Also witnessed, next to World of Disney, most likely the largest Disney store in the World, was the building of a McDonald's. Pansoph made note to ask Figment for comment.
Later that same day, the pair made their way to World Showcase for a lakeside seat view of Illuminations. The lasers and pyrotechnics colors are improved again this year (they are always working on it) and the water wall of video is more remarkable than ever. A late snack at Yacht Club's Galley was definitely in order and the fare was alligator and quesadillas, served by Dana, who says he's not a gourmet but sure sounded like one.
October 24. One of Pansoph's objectives for this trip was more photography and a day at MGM was on the menu. Figment remained behind once again, reasoning that background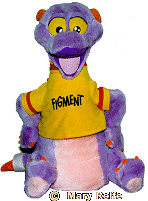 research would be of value, and mentioning the need to make some phone calls. Pansoph wasn't sure what Fig meant, but aware that this was the day in 1971 that Roy Disney dedicated Magic Kingdom, figured Fig meant to do more than he claimed. MGM was popular this day, but there was lots to do and lines moved quickly, so they managed every attraction except for a couple of live shows. Hunchback of Notre Dame was outstanding. Pansoph wanted to check out Goosebumps but it was "Closed for renovations" and would be down for about two weeks. Their favorite shop there, The Loony Bin, has been replaced by a Goosebumps shop.
October 25. The day they were waiting for, as the second annual Food & Wine Festival started at Epcot's World Showcase . A check of the pedometer assured the Rolfes they had been walking six to seven miles a day and massive calorie input should not be a problem. Figment said he was setting something up for Jon in a couple days, but would need more time in the room.
The Rolfes spent the entire day between World Showcase and Future world, returning to World Showcase to eat in a different country each time. Not only did they manage to partake of seven Food & Wine Festival countries, they also spent a pleasant evening meal at the Akershus in the Norway Pavilion. As the two partook of the magnificent buffet, they commented on the outstanding venison and some remarkable salads and fish. Grateful for the outstanding foods and wines, they were able to enjoy nearly every attraction in all of Epcot on this one day.
October 26. Blaming the ingestion of large quantities of Stilton Cheese in the United Kingdom the day before, Rolfe spent the morning in the room with Fig and discovered that Fig had been conspiring to resurrect an old friend of Jon's (and Scrooge's), Gyro Gearloose. This excited Jon enough to get him back on his feet (and walk only six miles this day) for more of Epcot, more Food & Wine Festival, and a wondrous evening meal at Le Cellier in Canada.
October 27. Starting to wind down like cheap clock springs, Rolfe, Pansoph, and Figment awoke late to find a light rain outside. Turning on the television, they found that heavy rains and wind were expected and a tornado watch was in effect.
As they turned from the tv to the balcony, the sky turned dark, the wind arose with a vengeance, an the heavens opened up with a rain that rapidly deposited a meteorologist's estimation of three inches of water on the parks. The Rolfes went down to the Yacht Club's Galley for a casual buffet breakfast and to wait out the rain. It was persistent but the rain let up somewhat after breakfast, so on went the yellow ponchos and an investigation of trooper tourists ensued, resulting in the witnessing of an ocean of yellow ponchos flowing through Epcot. The pair returned to their room for an afternoon siesta in preparation for an elegant repast at Le Chefs de France later that evening. After dinner, Rolfe asked Pansoph which dining experience was her favorite, at which point she realized a rare condition: she could not make this decision.
October 28. A busy day ahead and weather cooperated. First on schedule was a meeting at Magic Kingdom's Town Hall for the Keys to the Kingdom Tour. Here, the Rolfes were met by the enchanting Robin, who was to lead the tour of the Magic Kingdom and its mysterious Utilidor (utility corridors) underground but not underground, actually the first floor, which no tourist usually sees. This was the pair's second Keys tour, but Robin's admiration and knowledge of Walt Disney made it quite inspirational, so much so that Pansoph later read Walt Disney, An American Original by Bob Thomas.
Following the Keys tour and after the Remember the Magic Parade, Pansoph met the dynamic duo, Kristen and Eric of Geeks' Guide to Walt Disney World fame for a couple hours of computer and Disney talk and great quantities of coffee. Kristen and Pansoph discussed their many plans for their respective Disney sites and found great inspiration in their mutual creativeness, while Rolfe and Eric discussed tweaking computers and making them behave.
Time was running short and, hoping for an exciting phone message back at the room, the Rolfes sped back to the Beach Club. The message was waiting and formerly waning energy evaporated as they found an invitation to an Illuminations Cruise that very evening. All vacation, the Rolfes and Deb Wills of Deb's Unofficial Guide to Walt Disney World had been crossing paths in their rushing to make it somewhere else, but tonight, Deb was hosting a small party to cruise into their favorite light and pyrotechnic show.
Pansoph and Rolfe have seen Illuminations from a dozen wonderful locations all around the World Showcase but had never experienced this. Motoring up under the bridge between United Kingdom and France, they broke out hot chocolate and cookies, and waited for the show. Pansoph still flashes back to the wonder and awe of that night. One may find it expensive, but it is the most incredible view of the show one can possibly imagine. After the show, the party regrouped at Spoodles at the Boardwalk, where Pansoph met Becky, a CM who grew up in the town next to the one where Pansoph grew up. They found a commonality in their enthusiasm for their small Massachusetts home towns and the party managed to close Spoodles. So much for winding down like cheap clock springs.
October 29. On this day in 1966, Walt Disney was honored for his outstanding service in Conservation of American Resources. The Rolfes saw wisdom in this and decided to practice energy conservation on themselves.
They made their way to the Magic Kingdom and started in FantasyLand which sufficiently re-energized them to tackle the rest of the park and do most of the rides and attractions. From FrontierLand to TomorrowLand, they swept the park, all the while remembering the mysterious meeting planned later in the day where they were to meet Figment at the Plaza Pavilion.
As they approached the Plaza Pavilion from the end of Main Street, they could see Figment standing on the ramp leading into the restaurant. From Fig's expression, they could tell nothing of the secret he had in store for Rolfe.
As they turned left toward TomorrowLand, there it was, Figment's surprise. Jon was to meet an inventor he's admired for many years. Gyro Gearloose stood there, arms raised and smiling ... and in his right hand, a vial of some fresh idea he'd come up with. Figment had come up with the idea for two prolific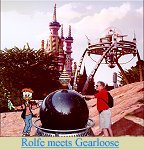 inventors to come together and it was instant electricity. Gyro and Jon hit it off instantly, discussing whatever was in the vial and theories flew like the snow at Mickey's Very Merry Christmas Party.
How the meeting's photograph was taken
As concepts flowed between the two inventors, Pansoph and Figment stood aside and pondered the ironies surrounding creative visionaries and the gifts they've given the world. Like Walt Disney, sometimes he was the only one who believed in himself, yet his persistence and vision created the only true vacation destination on earth.
It was a truly Magic day, maybe even more than Walt ever imagined, but he surely would have loved to be there if he could. Imaginations flowed, ideas gushed, and smiles and excitement abounded. Later, we dropped by to see Timekeeper. All in all it was an extraordinary day, even for Walt disney World.
October 30 and 31. Pansoph and Rolfe barely remember the two days after meeting Gyro Gearloose. They had girded the energy for days when they thought they might not be able to, but the excitement of day with Gyro, Figment and Timekeeper had to be given time to be absorbed and digested. Pansoph noted that, on October 30 in 1963, Disney's "Incredible Journey" had been released and suggested it was a good idea to reflect on their incredible journey at Walt Disney World. Weather was hot and sunny, it was nearly time to return home, so the Rolfes spent time at Storm Along Bay at the Beach andYacht clubs thinking over their experiences. In the time they had been at Walt Disney World, they had looked for their favorite lifeguard, Roxanne, so it seemed a good idea to finish up with a last look. Till next year, Roxanne. They'll have a question of the day for you then.
Time to pack for the trip home, the Rolfes, like us all, learn from experience. Their flight was a starvation trip by an airline who decided it could make more money by not giving its passengers more than 12 goldfish crackers and a Butterfinger bar the size of your thumb. Since the trip home not only includes flight but land travel, seven hours on the move without food is unwise.
The Rolfes made one last trip to World Showcase and bought cheese plates with grapes and French bread at the Boulangerie Patisserie in France. And in the air somewhere over North Carolina, they broke out the Brie and Camembert, and toasted another Magical experience at the best vacation place in the world. Figment was coming home with them.