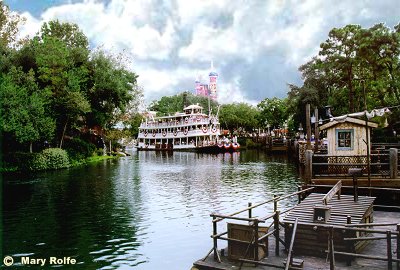 Liberty Square Riverboat in the days of the Pink Castle
The Richard F. Irvine Steamboat in one way resembles the S.S. Leaky Tiki in Adventure Land's Jungle Cruise. Both cruises take you on a journey through a variety of rivers. The Jungle Cruise humorously drifts through four jungles from South America to Africa and Asia. On the steamboat of Liberty Square you wend your way graciously over the Rivers of America.
It is a slow, relaxing half mile trip which takes you around Tom Sawyer's Island of Frontier Land. And, while it is a real steamboat, the Richard F. Irvine Steamboat rides on tracks in only about seven foot deep water.

---
Back to Liberty Square
Epcot | World Showcase | Future World | MGM
Pansoph's homepage | Tower Case of Terror | art gallery | Pansophilosophy
Except where noted, all images on this site are © by Mary Rolfe/Pansophist at http://www.pansophist.com/. All rights restricted.