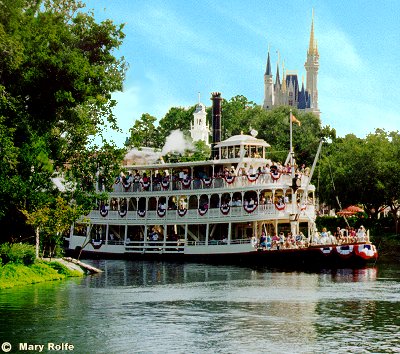 Steamboat Coming 'round the Bend
You can catch this view of the Castle behind the Riverboat from Frontierland around Country Bear Jamboree. This sight signifies it is nearly the end of the ride for these passengers as the boat approaches the dock near the border between Frontier Land and Liberty Square.

---
Back to Liberty Square
Epcot | World Showcase | Future World | MGM
Pansoph's homepage | Tower Case of Terror | art gallery | Pansophilosophy
Except where noted, all images on this site are © by Mary Rolfe/Pansophist at http://www.pansophist.com/. All rights restricted.