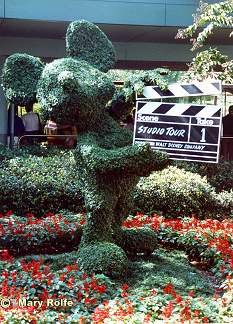 Mickey Mouse Topiary
This topiary used to mark the entrance of the Disney-MGM Studios Backlot Tour. But, in 1996, the attraction was altered and the entrance moved. Inside The Magic special effects and production tour was combined with the Disney-MGM Studios Backlot Tour which includes the exciting Catastrophe Canyon and Residential Street , as well as a look behind the scenes at one of the many working wardrobe departments and a prop warehouse. Inside The Magic featured the water effects tank where you are shown how seafaring movies are made, and is now the beginning of that exciting ride through Catastrophe Canyon .
Mickey's topiary here? I didn't find him last trip. Let's all search for him. The last one to find him is IT.
---
Back to More MGM
Magic Kingdom | Epcot | World Showcase | Future World
Pansoph's home | art gallery | Tower Case of Terror | Pansophilosophy
All images on this site are © by Mary Rolfe/Pansophist at http://www.pansophist.com/